#WD525CF 5 Pieces Wooden Multi Functions Display Risers, Coffee Color
WD525CF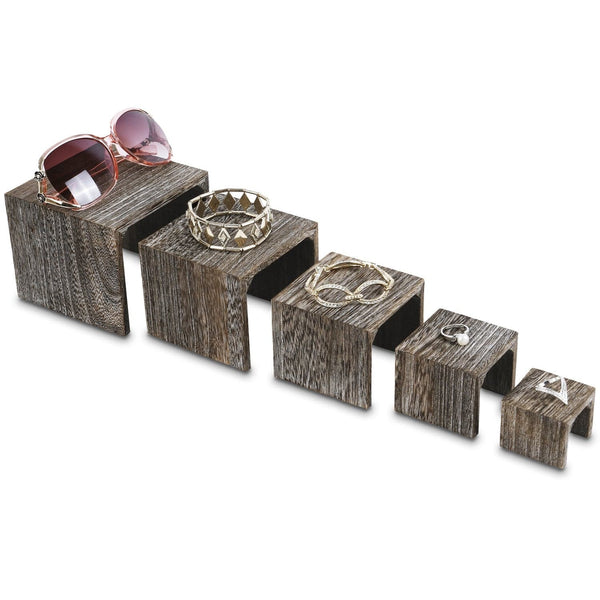 SKU: WD525CF
Size: 4 5/8"W x 4 5/8"D x 3 7/8"H, 4"W x 4"D x 3 1/2"H, 3 1/4"W x 3 1/4"D x 2 3/4"H, 2 1/2"W x 2 1/2"D x 2"H, 17/8"W x 17/8"D x 1 1/2"H
Unit: 5 pcs/set
SKU: WD525CF
This coffee color wooden accessory is perfect for displaying items in retail stores, and trade shows. Includes 5 piece stands with different heights for displaying your jewelry and items to be attractive and beautiful. You can place cosmetics, collectible items and more on them. Just try to display whatever comes to your mind, you can rearrange the risers with a variety of creative ideas.
COFFEE COLOR WOODEN DISPLAY RISERS - Great to display your rings, watches, necklaces, bracelets, earrings, eyewear, or cosmetics, figurines and any accessories on the countertop.

JEWELRY DISPLAY STAND - With 5 various sizes of height, you can arrange the risers in numerous ways or stand alone for showcasing your collection.

LIGHTWEIGHT WOODEN RISER FOR DISPLAYS - The set includes 5 pieces of lightweight risers in leveling heights. This wooden risers set can be stored and carried for the trade show & showcase.

MATERIAL & SIZE - Wood; Overall:

4.6*W x 4.6"D x 3.9"H, 4"W x 4"D x 3.5"H, 3.3"W x 3.3"D x 2.8"H, 2.5"W x 2.5"D x 2"H, 1.9"W x 1.9"D x 1.5"H

Accessories are NOT included; The color may be slightly different by handcraft.